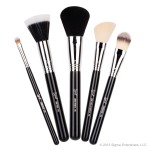 Natural hair brushes are made with hair from animals such as squirrel, weasel, goat and sable.  For this reason, they are generally more expensive than an equivalent synthetic brush, but form an important role in your brush kit.
Real hair has follicles, which means the brush will pick up your product and will hold it until you buff or press the product onto your skin.  Natural hair brushes are great for "dry" products like powder eyeshadows, powder blushes and face powder.  A well-blended look is easier using this brush type.  Usually the bristles on natural hair taper at the ends to give a luxuriously, soft brush which should feel beautiful on your skin.
Keep in mind that natural brushes are not really suitable for "wet" products – the product will be absorbed into the bristles, which results in product wastage, but also means it will be difficult to distribute the product onto your skin.
Synthetic hair brushes are man-made and are generally stiffer to the touch than natural hair brushes.  The synthetic fibres aren't porous and consequently won't absorb the product like natural hair brushes.  This makes synthetic brushes ideal for "wet" products.
Products such as liquid foundations, cream concealers, liquid or gel eyeliners, cream eyeshadows, cream blushes and of course lipstick are best applied with synthetic  (as above, product won't be wasted by the bristles absorbing it and then not being distributed on your skin).
I find it best to "work" the product off the brush and into your skin with gentle movements.  This also helps warm up the product for a more even finish.  Blending and buffing isn't as easy with synthetic brushes as the bristles don't move as freely, so grab a natural hair brush for this effect.
Synthetic brushes are green products, easier to clean, rarely shed, and have less odour than natural brushes however, because they are cut to size, they do not have a natural a tip like natural hairs do, and if you have sensitive skin you may find them harsher than natural bristles.
I encourage you to experiment with both types of brushes as it's also a matter of preference.  The brush should feel comfortable on your skin and not cause irritation.
A little tip – after purchasing a brush, coat the name or number of the brush with clear nail lacquer.  If you love the brush but after many years it needs replacing, the name won't have worn off and you'll have the details for re-ordering!
Remember that at the end of the day, cleaning and caring for whatever your brush types you have will see you get the best out of them.