How does Afterpay work?
All you need to do is choose Afterpay as your payment option when you're ready to complete your makeup order and get approved instantly and securely, no long forms or detailed personal information. Afterpay simply uses your nominated bank card to process your application on the spot. Afterpay offers simple instalment plans for online shoppers, allowing a purchase to be paid for in four equal instalments, due every fortnight. First-time customers provide payment details as usual, returning customers simply log in to make their purchase. It's that easy!
Can I buy makeup with Afterpay
Yes! Redefining Beauty has a large range of makeup available to purchase through Afterpay. You can use Afterpay to buy all our brands and our entire range of makeup. Buy makeup with Afterpay w from Redefining Beauty.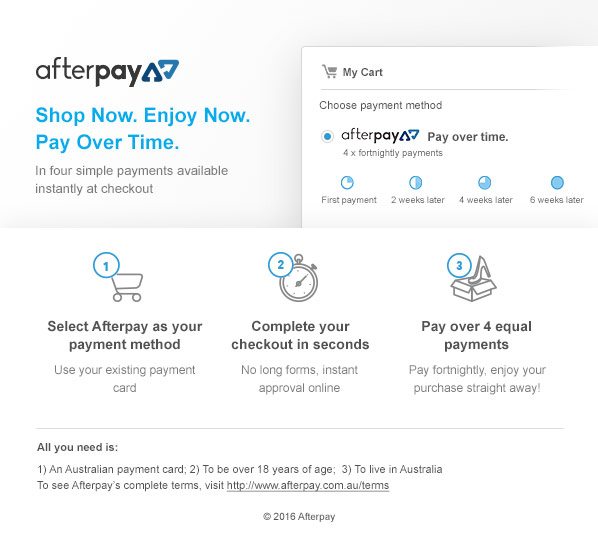 After you check out, the goods will be shipped to you by Redefining Beauty. At any time, you can log in to your Afterpay account to see your payment schedule and make a payment before the due date. Otherwise Afterpay will automatically deduct the instalments from your debit or credit card every fortnight.
Is there a cost to buying makeup with Afterpay?
There is no fee to consumers when purchasing with Afterpay. The only fees applied to consumers are late fees if your scheduled payments are unsuccessfully processed and, after being notified, you do not log in to your Afterpay account to make your payment via a different method.
Which cards does Afterpay accept?
Afterpay currently accepts Mastercard and Visa credit and debit cards issued in Australia. No foreign debit/credit cards or prepaid cards are accepted.
When will my first payment be charged?
All new Afterpay customers are required to make their first payment at the time of purchase. You will no longer be considered a 'new' customer once you have fully paid off your first order AND 6 weeks have passed since you placed that order. For any order thereafter, your first payment will only be deducted 2 weeks after your purchase and your last payment deducted 8 weeks after purchase.
No Catches!
It's time to treat yourself, it's time to buy those Sigma Brushes with Afterpay!
Zero interest on any repayments
Fortnightly instalments
Please note – late repayments are met with a late fee of $10, and an extra $7 for every week that the payment remains outstanding