Get your hands on Sigma Beauty Brushes with Redefining Beauty's digital vending machine Coming to a store near you this Christmas!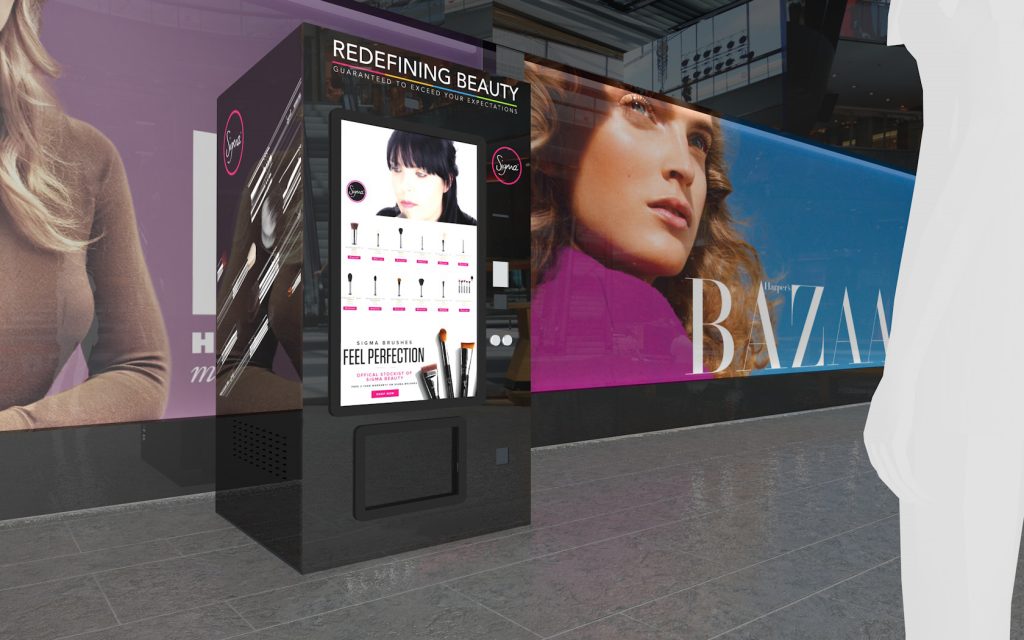 Redefining Beauty, an online beauty store, will be launching Australia's first Digital Vending Machine containing the highly sought after Sigma Beauty brushes in November. Sigma brushes, favourites of celebrities and YouTube stars, will be available at a yet to be disclosed shopping centre in Melbourne, reaching shoppers just in time for the Christmas rush.
"This will mark the first time many Australians will be able to purchase Sigma products at a retail location in Australia," said Shanti Fresco, Marketing Manger for Redefining Beauty. "It's a new concept that we want to introduce to the local market, something we're quite confident will be embraced by Australian makeup artists and beauty enthusiasts alike," she added.
Affordability and Convenience
Digital Vending machines have proven successful overseas, from cupcakes in New York City, gold chips in Dubai, Lego blocks in Munich, and here in Australia, the iconic Havaianas flip-flops. Digital Vending has been hailed by some as the future of retail, although Australia has seen very few of these types of machines so far.
Redefining the Australian Beauty Experience
In launching this machine, Redefining Beauty will bring Sigma's makeup brushes, kits, and accessories within easy reach of consumers, and they won't have to wait to get it shipped! This will be the first beauty digital vending machine in Australia and the first time makeup brushes will be available through a vending machine in Australia.
About Redefining Beauty:
Redefining Beauty is a 100% Australian-owned company that specializes in bringing high-quality makeup brushes, makeup, and accessories to the Australian market. The company is one of the leading resellers of Sigma Beauty products in Australia, supplying a wide range of items that are highly regarded for their performance and durability.
Since 2011, the Australian-owned company has been providing professional makeup brushes at affordable prices through their e-commerce website and pop-up stores at Westfield's Shopping Centres and IMATS (International Makeup Artist Trade Show).
Along with Sigma Beauty products, Redefining Beauty supplies several other brands such as Velour Lashes, BH Cosmetics, and Sleek Makeup.
Great News Beauty Lovers! We will be returning on Thursday the 15th of October, on Level 4, opposite Guess.
We will be there until Saturday the 24th of October.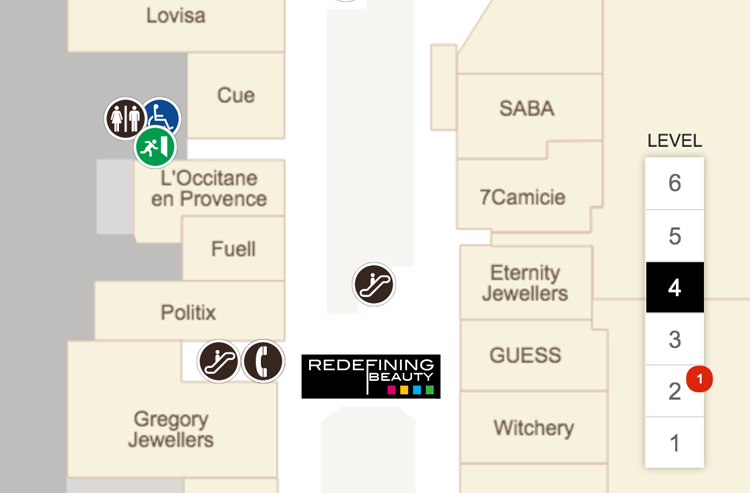 Trading Hours:
Monday 9:30am – 6:00pm
Tuesday 9:30am – 6:00pm
Wednesday 9:30am – 6:00pm
Thursday 9:30am – 9:00pm
Friday 9:30am – 6:00pm
Saturday 9:00am – 6:00pm
Sunday 10:00am – 6:00pm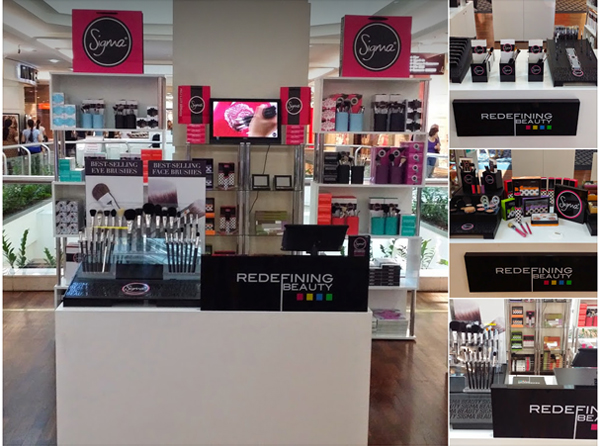 Hi Beauty Lovers! We are excited to confirm that we will be having another pop up store in Parramatta Westfield Shopping Centre! So you now have an opportunity to get Sigma's Award winning and innovative products before Christmas!
We will be at Parramatta Westfield from the 8th of December to the 21st with a large range of Sigma Beauty products as well as Velour Lashes!
Trading Hours
Monday Dec 8th 9:30am-6:00pm
Tuesday Dec 9th 9:30am-6:00pm
Wednesday Dec 10th 9:30am – 6:00pm
Thursday Dec 11th 9:30am – 9:00pm
Friday Dec 12th 9:30am – 6:00pm
Saturday Dec 13th 9:00am – 6:00pm
Sunday Dec 14th 10:00am – 6:00pm
Monday Dec 15th 9:00am-6:00pm
Tuesday Dec 16th 9:00am-9:00pm
Wednesday Dec 17th 9:00am – 9:00pm
Thursday Dec 18th 9:00am – 12:00am
Friday Dec 19th 9:00am – 9:00pm
Saturday Dec 20th 8:00am – 6:00pm
Sunday Dec 21st 9:00am – 6:00pm
Location:
Westfield Parramatta Level 4 opposite Guess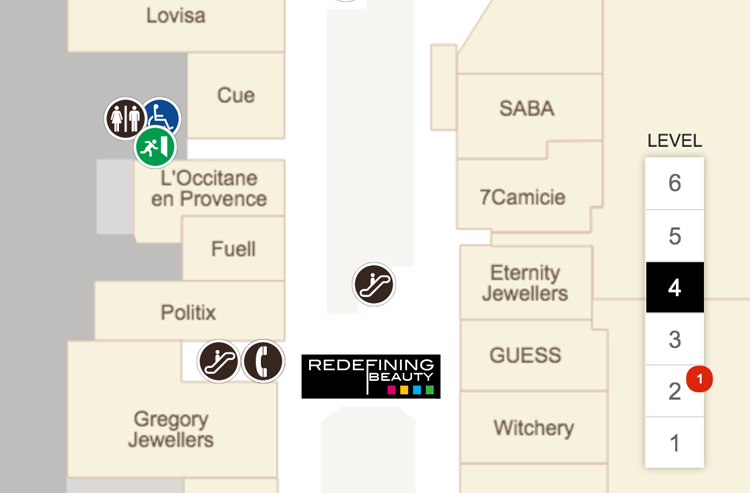 Hi Beauty Lovers!
We are excited to confirm that we will be having a pop up store in Parramatta Westfield Shopping Centre this month, so anyone who missed out on getting Sigma Brushes at the IMATS you now have an opportunity to sample Sigma's Award winning and innovative products.
Sigma Beauty's new 3DHD Kabuki and Precision brushes will be available.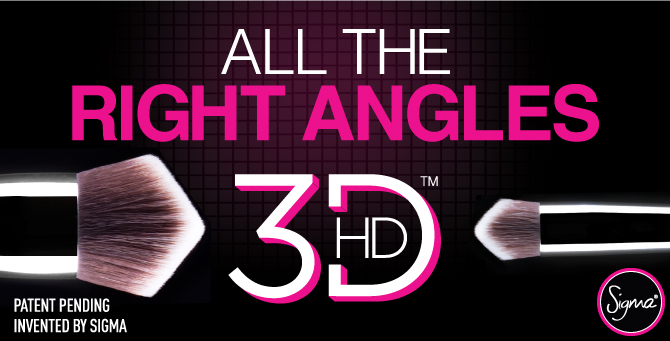 We will be there for four days to give you all a chance to come for a visit!
Dates and Times:
Thursday 23rd
9:30am-9:00pm
Friday 24th
9:30am-6:00pm
Saturday 25th
9:00am – 6:00pm
Sunday 26th
10:00am – 6:00pm
Location: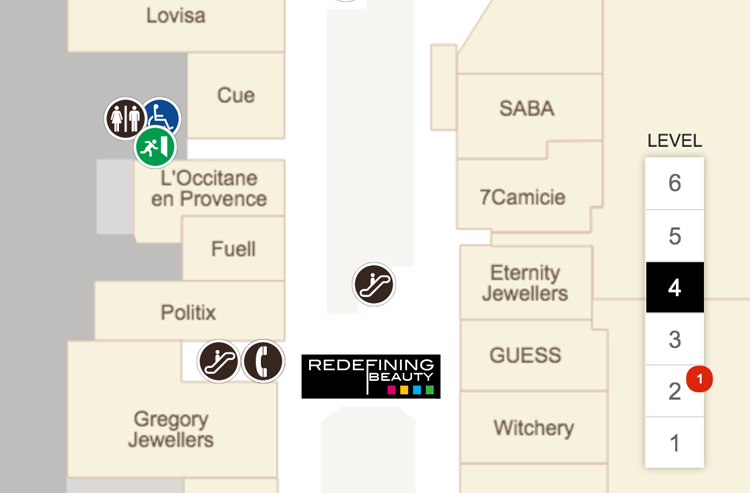 Hi Beauty Lovers,
Exciting news! Redefining Beauty will have a popup stall in Westfield Parramatta Shopping Centre late October!
Sign up to get notified of exact dates and stall location click Here
Redefining Beauty is dedicated to providing Sigma's Amazing products throughout Australia, we are planning to do more popup stalls leading up until Christmas!
Yes we are all counting our lucky stars in Sydney as the Makeup giant Sephora has finally seen the value in the Australian Beauty market, and has picked Sydney for the first location (that's right, there will be more, possibly 25 more!).
While several reports have said that this shouldn't start a price war, numerous reports has said that Sephora will be using the American prices and not adding the typical Aussie markup we've had to suffer for years.
What many people don't know is that both Myers and David Jones have been working over the last year to roll in "price harmonisation" which in simple terms means that the brands they carry will be at the same price as overseas!
This is a historical moment as it is the first major move towards removing the abnormally high Australian markup, as these two industry leaders make the move everyone else will follow.
While this is exciting news, as delivering a more fairly priced product to Australians is the main reason Redefining Beauty was started, it will no doubt be quite some time before beauty buyers actually get lower prices.
There is another side to the difference in pricing the consumers don't often realise, and that is the exchange rate and gst and duty, with the no too distant GFC (Global Financial Crisis) the Australian Dollar soared and was even above the Us Dollar, its now around 92 cents to the dollar, but has been as low as 84 cents.
This one thing alone means a product that goes for $85 US could cost $100 Australian, and then there is gst and duty and customs fees which adds another 15% to the price.
So while we will start to see the prices become more reasonable, having the same dollar figure as US prices is simply not a reality.
Redefining Beauty will be attending the IMATS in Sydney hope to see you there!
Redefining Beauty has launched a makeup video site that gives you access to our favourite Australian and International Makeup Artists.
Videos are organised by skin tone, local and overseas artists,check it out here: http://redefiningbeauty.com.au/makeup-tutorials/
More Info
– Why did you decide to create this resource centre?
Answer: YouTube has been a popular place to learn new techniques to apply makeup, but we saw a lack of organisation, we wanted to be able to keep up with our favourite Artists, but have a better way to find a video, or get ideas rather than by artist and date.
We also get a lot of requests from our customers in regards to top makeup artists and makeup tips that match their skin tone so we've developed this resource to make that job easier.
– List of some of the key makeup artists shown
Jaclyn Hill
Carli Bybel
Tiffany D
Lauren Curtis – Australian
Camila Coelho
Chloe Morello – Australia
Teni – MissMaven
Shaaanxo – Australian
Question: – How will this help your professional customers (makeup artists)?
Answer:
This site provides a wealth of information that helps makeup artists keep up to date with their favourite artists (as well as expose them to more) and enables them to get ideas for certain skin types that they may not work with very often.
As we come to the end of the year, it's time to look back and reflect on all the accomplishments of the year, and it's been a busy year for Redefining Beauty, keeping up with the constant stream of products launched by Sigma Beauty is not an easy task!
So without further ado here is Redefining Beauty's top five 2013 Sigma Brushes and Products! (in no particular order)
Spa Glove
While there has been a bit of controversy about this product as some people think its not really needed or on the pricy side, it is one of the most unique products on the market when it comes to cleaning brushes it is perfect!
Of course you can clean brushes with your hands, but I liken it to washing your car with a sponge and a hose, or taking it to a car wash, both will get the job done, the latter gets it done quicker, and better.
Advanced Artistry Set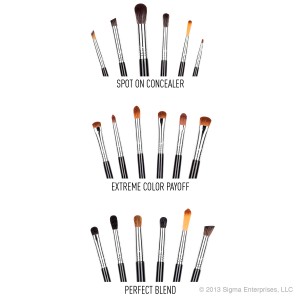 Sigma brushes are known around the world for their excellent quality and affordability, but Sigma doesn't stop there, it is in my opinion one of the most innovative makeup brands on the market. see my post on Sigma's Most Innovative Products.
The Artistry set is Sigma's latest offering when it comes to professional makeup brushes, and they have proven to be a hit with makeup artists who have more specific brush needs are aren't met by Sigma's regular brush line. out of the three sets, the Extreme Colour brush set is our favourite.
Resort Palette
This has been the palette that has stood out the most to us, while there were some other close runner ups with the Paris Palette and the Defining Eyes Palette, the bright dynamic summer colours in the Resort Palette were destined to be a winner from the word go and we are sad to see it go, however there is still hope as the individual colours are now available!
Enlighten Collection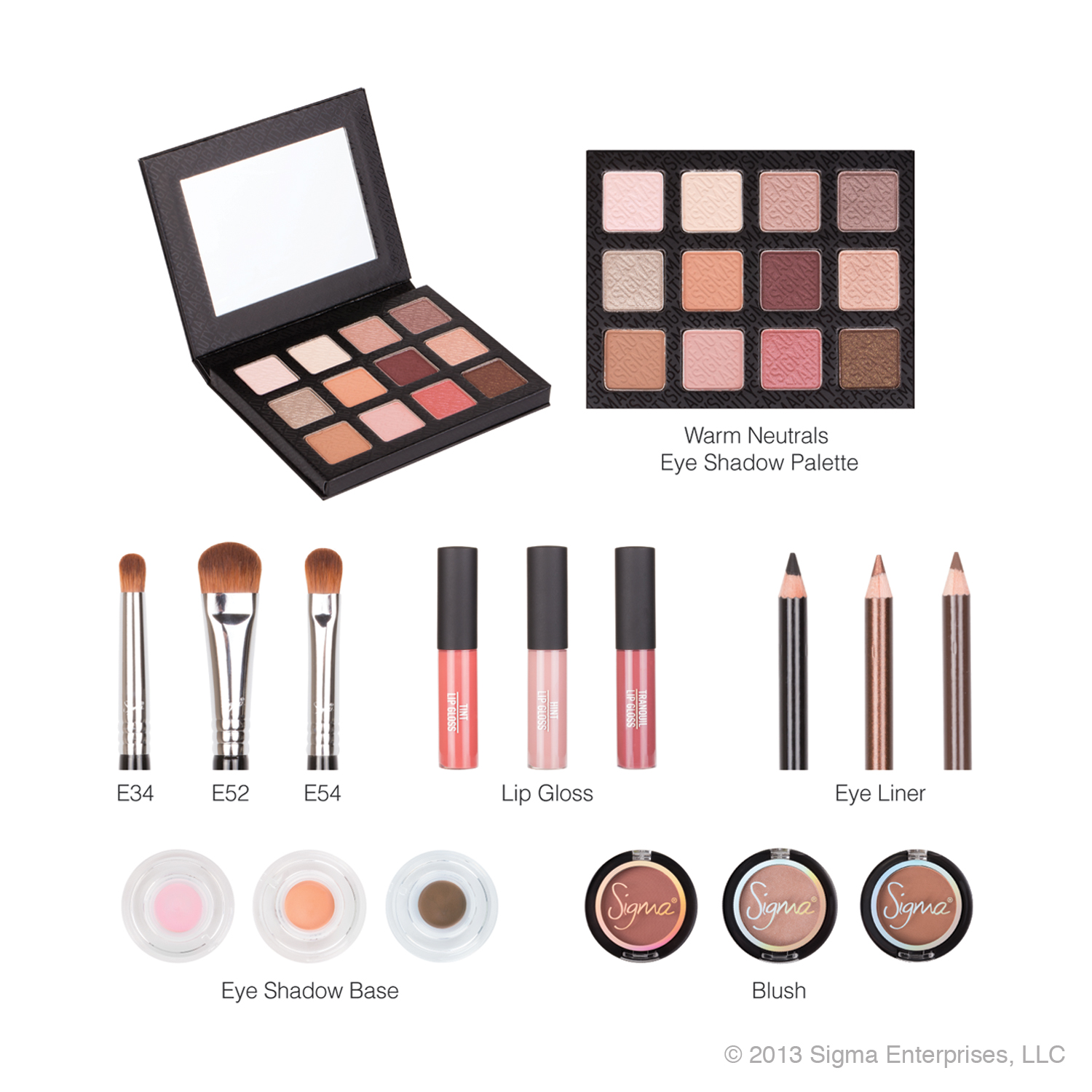 The Sigma Beauty Enlight Collection includes an array of products with a new take on neutrals. This collection contains one eye shadow palette, three lip glosses, three eye liners, three eye shadow bases, three powder blushes and three eye brushes.
All of the products featured in the collection were created to add a unique warmth & calmness to your makeup look.
F88 P88 Sigma Brushes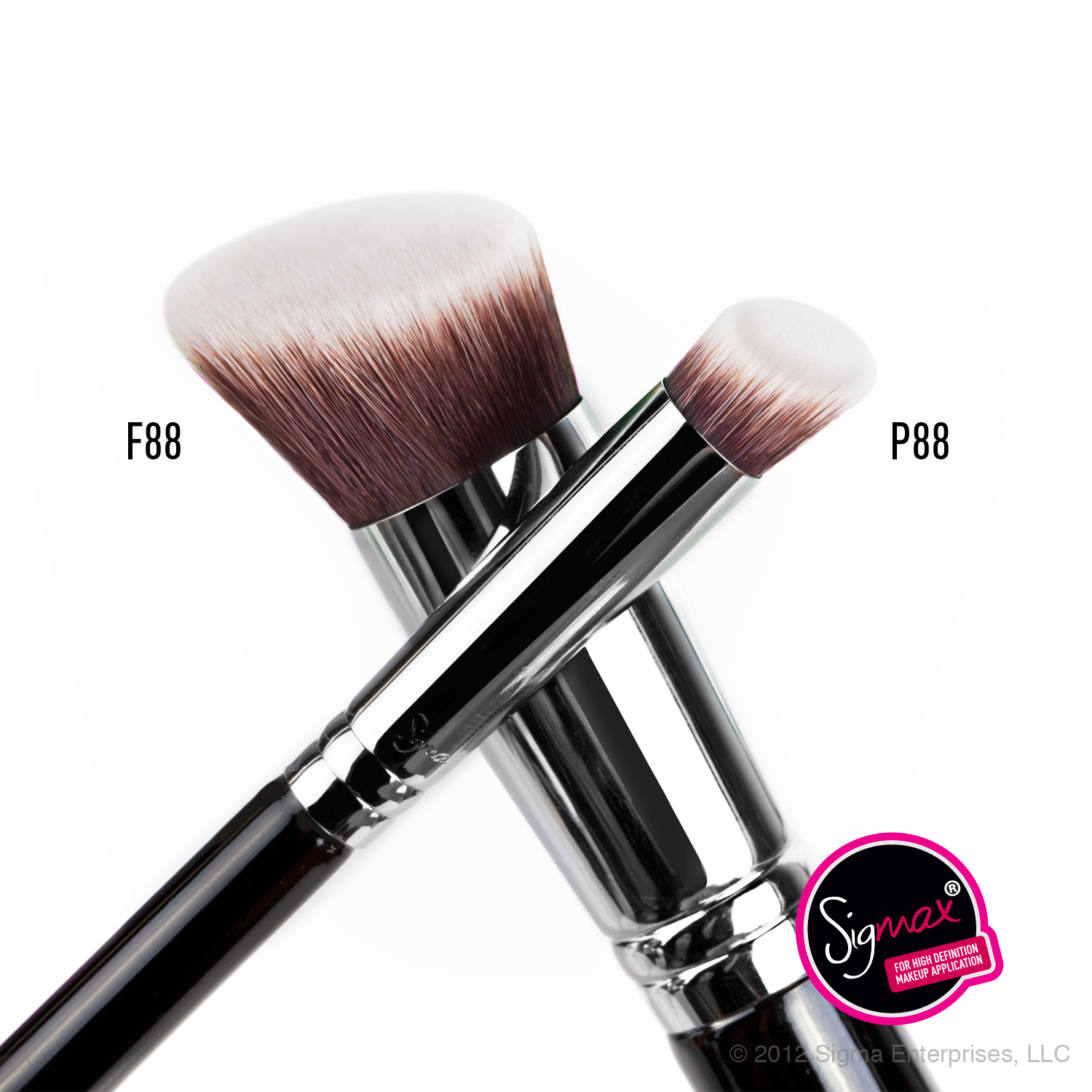 These two brushes have completed the range of Kabuki brushes available from Sigma, and are a hybrid between the F80/P80 and the F84/P84.
With a flat brush face on an angle, they are no doubt in response to customers who liked the F80/P80 but found it a bit hard to use in certain areas.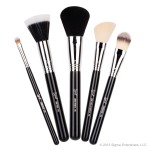 Natural hair brushes are made with hair from animals such as squirrel, weasel, goat and sable. For this reason, they are generally more expensive than an equivalent synthetic brush, but form an important role in your brush kit.
Real hair has follicles, which means the brush will pick up your product and will hold it until you buff or press the product onto your skin. Natural hair brushes are great for "dry" products like powder eyeshadows, powder blushes and face powder. A well-blended look is easier using this brush type. Usually the bristles on natural hair taper at the ends to give a luxuriously, soft brush which should feel beautiful on your skin.
Keep in mind that natural brushes are not really suitable for "wet" products – the product will be absorbed into the bristles, which results in product wastage, but also means it will be difficult to distribute the product onto your skin.
Synthetic hair brushes are man-made and are generally stiffer to the touch than natural hair brushes. The synthetic fibres aren't porous and consequently won't absorb the product like natural hair brushes. This makes synthetic brushes ideal for "wet" products.
Products such as liquid foundations, cream concealers, liquid or gel eyeliners, cream eyeshadows, cream blushes and of course lipstick are best applied with synthetic (as above, product won't be wasted by the bristles absorbing it and then not being distributed on your skin).
I find it best to "work" the product off the brush and into your skin with gentle movements. This also helps warm up the product for a more even finish. Blending and buffing isn't as easy with synthetic brushes as the bristles don't move as freely, so grab a natural hair brush for this effect.
Synthetic brushes are green products, easier to clean, rarely shed, and have less odour than natural brushes however, because they are cut to size, they do not have a natural a tip like natural hairs do, and if you have sensitive skin you may find them harsher than natural bristles.
I encourage you to experiment with both types of brushes as it's also a matter of preference. The brush should feel comfortable on your skin and not cause irritation.
A little tip – after purchasing a brush, coat the name or number of the brush with clear nail lacquer. If you love the brush but after many years it needs replacing, the name won't have worn off and you'll have the details for re-ordering!
Remember that at the end of the day, cleaning and caring for whatever your brush types you have will see you get the best out of them.
Hi Beauty Lovers! Sigma Eye Liner Sets and Individual Eye Liners are Now Available From Redefining Beauty
Sigma's New Eye Liner Range
Available as of today, this collection contains nine liners in a variety of neutral, warm and cool tones. The eye liner pencils are made with a rich, creamy and long-wearing formula, making them the perfect complement to Sigma's existing eye shadow collection.
The Extended Wear Eye Liners are available in three kits, each containing three liners and a brush, or they can be purchased individually.
Shop Below: